Are Yellow Pages Relevant to Your Business?
A new survey report by online review site, YELP.COM, all but declared yellow page advertising dead.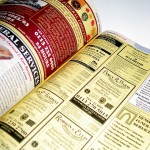 Most Business Owners say Yellow Page Books are Irrelevant to their business.
In May, Yelp presented a survey to gauge how business owners feel about yellow page phone books in the digital age. 76% of the 3,500+ respondents said "NO" when asked: "Are yellow page phone books still relevant?"
"Internet directories have led to a dramatic decrease in the number of business owners and consumers who use phone books."
That's a dramatic shift in business opinions from just a few years ago, and signals the importance of Local Businesses having a strong online presence.
Here are some more survey questions and results:
1) Most business owners don't think yellow page phone books are useful to them:
"Yellow page phone books are useful to me as a business owner."
Agree – 11%
Somewhat Agree – 17%
Somewhat Disagree – 19%
Disagree – 52%
2) Only about 10% of business owners use yellow page phone books more than once per month; 3 out of 4 don't use it at all:
"How many times per month do you rely on a yellow page phone book to find a local business?"
"Zero" – 75%
"Once" – 14%
"Between two and four times" – 8%
"Five or more times" – 3%
3) Very few business owners believe customers find them using a yellow page phone book.
"Estimated percentage of customers who find me using a yellow page phone book."
"0%" – 43%
"1-25%" – 47%
"26-50%" – 5%
"51-75%" – 3%
"76-99%" – 1%
"100%" – 0.1%
Yelp concluded: Business owners have clearly observed the shrinking relevance of yellow page phone books. As we continue to move away from printed phone books, online and mobile directories will continue to grow as the customer's choice for local business information.
The results of this survey confirm that Local Businesses need to redirect their marketing budgets in favor of online marketing to reach customers who are using search engines to find local business services and products.
If you are a business owner, ask yourself if you are getting value from your yellow page advertising? Then decide if you need to change your promotional budgets to align with where your customers are looking for your products and services.
.